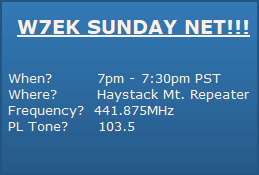 What is Amateur Radio?

Amateur Radio, also known as Ham Radio, is a FCC regulated radio service which aims to provide public service, technical training and experimentation, and is often used for communication between private persons. This is a non-commercial communications service.
Amateur Radio operators, commonly called hams. like to communicate with each other for fun. They can also provide communications for public events. In times of emergency they are quite often the first responders to disasters such as hurricanes, etc., providing essential communications.

You don't need a license to listen to ham bands but you are required by law to have one to transmit within a specified frequency spectrum based on your license level. Hams are licensed to operate radio transmitters by the FCC (Federal Communications Commission), and are assigned a call sign, such as our club call W7EK, which is registered in the FCC's universal licensing database.

If you want to know how to get a license please check out one of our meetings or feel free to contact us with any questions using our
Contact Us form.


Click here if you would like to find out more about getting licensed
.
Welcome to the Cascade Radio Club - Home of W7EK

Celebrating 75 Years of ARRL Affiliation
Our monthly meetings.

Cascade Radio Club invites everyone with an interest in Amateur Radio to come visit us at our monthly meetings. Whether you are licensed, or not, you are most definitely welcome to come and check us out.

When? The 3rd Wednesday of each month
(except December)
Time? 7:00pm (Lasts approximately an hour and half)

Where? Meeting in person at the PUD offices, 2320 California Street, Everett Wa. The evening begins at 5:30 with a no-host dinner at I-Hop on Broadway, near the AquaSox baseball field (Funko Field). At 7pm the meeting will begin at the PUD with a short business meeting followed by a program of interest to all hams.


Contact? Click here