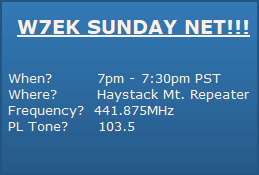 What is Amateur Radio?

Amateur Radio, also known as Ham Radio, is a FCC regulated radio service which aims to provide public service, technical training and experimentation, and is often used for communication between private persons. This is a non-commercial communications service.
Amateur Radio operators, commonly called hams. like to communicate with each other for fun. They can also provide communications for public events. In times of emergency they are quite often the first responders to disasters such as hurricanes, etc., providing essential communications.

You don't need a license to listen to ham bands but you are required by law to have one to transmit within a specified frequency spectrum based on your license level. Hams are licensed to operate radio transmitters by the FCC (Federal Communications Commission), and are assigned a call sign, such as our club call W7EK, which is registered in the FCC's universal licensing database.

If you want to know how to get a license please check out one of our meetings or feel free to contact us with any questions using our
Contact Us form.


Click here if you would like to find out more about getting licensed
.
Welcome to the Cascade Radio Club - Home of W7EK
Our monthly meetings.

Cascade Radio Club invites everyone with an interest in Amateur Radio to come visit us at our monthly meetings when we return to our regular schedule. Whether you are licensed, or not, you are most definitely welcome to come and check us out.



When? The 3rd Wednesday of each month
(except December)
Time? 7:00pm (Lasts approximately an hour and half)

Where? Online video conference using Microsoft Teams
Contact us below if you would like an invitation

to join our next meeting


Contact?
Click here
THE NEW NORMAL....FOR NOW!
In an attempt to mitigate potential risk to our members and guests, Cascade Radio Club will not hold any in-person meetings until further notice. Our goal is to minimize any potential risk during this time so we, along with the PUD, are therefore complying with the Governor's emergency order and Snohomish Health Districts direction.
Our monthly meeting will therefore be substituted with a monthly Net using the repeater system (Repeater details shown below). This meeting will be on the 3rd Wednesday at 7pm so please join us on the air and we hope to hear from you.
If you would like to find out more detail about COVID-19 please use the following link.
Snohomish Health District
SPECIAL EVENT

Some of us recently had a special event to assist in taking down an antenna tower for one of our special silent key's

Please click on the photo to see more about it.